With oodles of bibliophile headed towards most ravishing and edifying Zee JLF, 2017, a Jaipur- based start-up 'Yeppar', perks up the show by presenting the use of augmented reality technology for boosting print readership.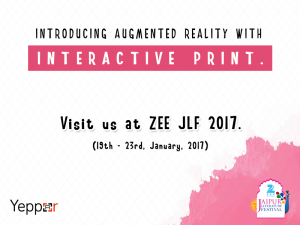 Zee JLF having entered into its 10th year, hosted a flamboyant event bringing in some of the most influential and renowned politicians, entertainers, authors, speakers, historians, politicians and humanitarians whose mere glimpse set the ball rolling. However, what robbed the attention of the invitees was a phenomenal exhibition of use of augmented reality technology for multiple purposes. First-rate augmented reality booklets were distributed to each of the visitors, for making them acquaint with the use of augmented reality in education, healthcare, marketing and real estate sector. What created much of buzz was the fact, how this unique app proves beneficial for the authors and publishers across the globe for making masses aware about their recent publication and connecting with them at one go.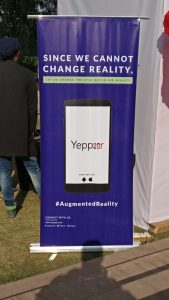 The Yeppar team went a step ahead to further showcase how augmented reality technology can prove to be advantageous for the authors and publishers in gaining back the print readership by means of creating an enticing and enchanting experience for the readers. The utility of Yeppar, an AR app, was made known to the visitors of Zee Lit Fest that centered the appreciation and attention of many. 'The advantage of overlaying the additional content in form of images, graphics, videos, 3D models, and texts, is what brings life to the otherwise mundane black-printed books', said by the Yeppar team.
During the event,  Yeppar stall saw many dignitaries taking an experience of how Yeppar, an AR app, can be employed to bring in more life-like elements to almost anything and everything. Imam Siddique, one of the well known Indian fashion stylist and television personality, was amazed at the potentiality of the Yeppar app in bridging the physical and digital world.
'Yeppar' a startup by RAMS creation lived up to its expectation in actualizing a buttoned up and cultivated Literature festival. Mr. Rahul Mangal, the founder of Yeppar commented, the practical exhibition via means of augmented booklets along with informative videos mapped out by Yeppar, contemplated about every visitor from school children to ordinary visitant and dignitaries, opening new avenues for future.
Zee JLF, 2017 was a unique literature festival surpassing its own saga of success and fame, by being a digitally supported event. One of the oldest patrons of Zee Lit Fest, The Glenlivet has the line, 'It all comes back to the original, and this festival is a place for originality'. The same holds true for JLF's technological partner 'Yeppar' that infused original and top-notch augmented solutions heard never before.