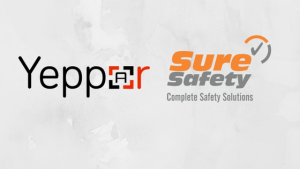 Yeppar, one of the most renowned Augmented reality startups in India teams-up with Sure Safety with an aim of fabricating a safer environment for all. Sure Safety a forerunner in safety solution, with this collaboration is looking forward to a launch of AR-enabled safety magazine. A safety book encompassing a wide genre of products and solutions offered by the company would serve as a digital guide to all the shareholders having 'safety for life' as the primary concern.
Sure safety:
Sure safety acting as a one-stop safety solution has attained innovative excellence by fostering knowledge, innovations and instilling a learning culture. A dedicated team working on the premises made the products and services available in all verticals like safety shoes, safety hand gloves, flashlights, electrical safety, women safety signage and much more. According to Mr. ABC, the company's head," the knowledge about safety is better communicated visually and practically and that has been the main driving factor behind the launch of AR-enabled safety magazine".
Yeppar:
Yeppar, India's leading augmented app known for adding life-like effects to print media and adverts is hailing towards digitizing India in all sectors. From newspapers to business cards and catalogs, Yeppar team is set to bring transparency and accessibility of information anytime anywhere. Mr. Ankush Sharma, the co-founder of Yeppar said, "Digitization is a sole key to access masses at a single point of time, he further added, a technology as vibrant as Augmented reality serves as a chariot to drive success in today's information era". Looking at the current pace of life, safety in all domains is a prerequisite for having a happy and successful life, and with this goal in mind, we have collaborated with Sure Safety to spread the know-how about safety, both at workplace and homes.
The vision behind this collaboration:
Safety is one such parameter which is essential and yet ignored at most of the places. As said by the head of Sure Safety, training pertaining to safety is better communicated when demonstrated visually. With this consideration in mind, Yeppar has partnered with Sure Safety to come with an augmented reality magazine, that offer plentiful information regarding safety tools, practices, techniques and much more in form of videos, 3D models, graphics, audio etc. The duo promises a very interactive and engaging experience to all the readers.  'Actions speak louder than words' is what works for the concept of this safety magazine, as claimed by both the parties.
The question lies, will this collaboration reach a milestone in acquainting people about the safety measure and practices? Or is there still a much stronger storm needed to push the people to start thinking about their safety as a first priority?