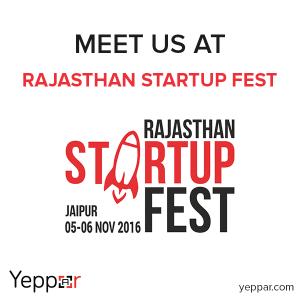 A two day(5-6Nov) event, organized by RIICO and Startup Oasis, Rajasthan Startup Fest-2016, witnessed some promising and innovative ventures in several domain, with Yeppar being one among the most recognized and appreciated startup. Stealing much of the show, The Yeppar team traversed the visitors to a distinct world by the virtue of augmented reality technology.
The annual flagship startup event held at JECC, Jaipur exhibited more than 30 startups covering sectors like Hardware, Internet, Mobile and Social and many others. More than that, the event was aimed at aligning the different stakeholders of entrepreneurial ecosystems under one platform. From stakeholders to investors and IT professionals to vibrant speakers, all envisioned a high energy interaction and discussion to pitch a new idea that holds the potential to alter the world.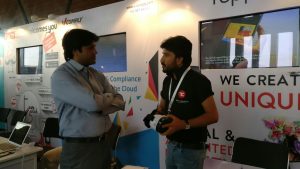 Amongst the other startups, Yeppar by RAMS creative technology holds a dominant position by being the center of attention for the invitees. Yeppar being an Augmented reality app is known to bring life-like effects to otherwise stifled entities (be it print media, menu cards, catalogues, property layouts etc.), by overlaying an addition layer of computer-generated information in the form of video, graphics, audios, text etc. Our Yeppar team went an extra mile to showcase and offer profound knowledge regarding the use of augmented reality in the field of real estate, hospitality, education, healthcare, dining, advertising and branding and much more. Giving a real experience of what AR technology can promise through the use of Yeppar app amazed a massive folks and the word went viral with huge crowd visiting our booth to feel and experience what a digital era in the future would look like. From showing how newspaper comes alive with the use of Yeppar, along with exhibiting the AR menu cards, business cards, catalogues, wedding cards clinched with AR logo and letting the visitors have a virtual tour of one of the manufacturing plants (Dynamic cables), our team kept the masses esp. the students entertained in an edifying manner. A glimpse of our teamwork with Dabur for branding their products gave a live example of the usability of Yeppar app in day to day life.
The positive and exhilarating responses of some of the visitors, evidences the popularity and fame centered over the Yeppar app,
"Very innovative and helpful" –  Nitika Gupta
"Good idea and good to promote your startup". – Abhishek Mittal of taste Brunch)
"This is like living in Hogwarts" – Abhayjeet Singh (Poornima group of colleges)
"You guys are making a difference to the world" – Junshikha Jalan  (Jyoti  vidhyapeeth university)
 Being a part of this event has been highly advantageous, as it offered rostrum from where we connected with people and showcased what changes we can see in future with the aid of AR-enabled Yeppar app, to make the life simpler and better for humankind. The affirmative and fervid responses further spirited our efforts and we promise to continually maturate and evolve the Yeppar app to serve the interest of all our stakeholders.