The Last few years have seen a tremendous rise in the usage of augmented reality in different fields, the reason being its ability to allow a user to view fabricated real-world scenarios by infusing their minds with computer-generated visuals such as audio, video, images etc. Augmented reality solutions  have revolutionized multiple sectors such as an automobile, education, tourism, business and many more. Augmented Reality Architecture has turned out to be one of the most prominent benefactors of augmented reality. At first, reality solutions for construction was mostly confined to large-scale builders, but with its surging use on portable devices, now even small firms and independent architects are also benefiting from it.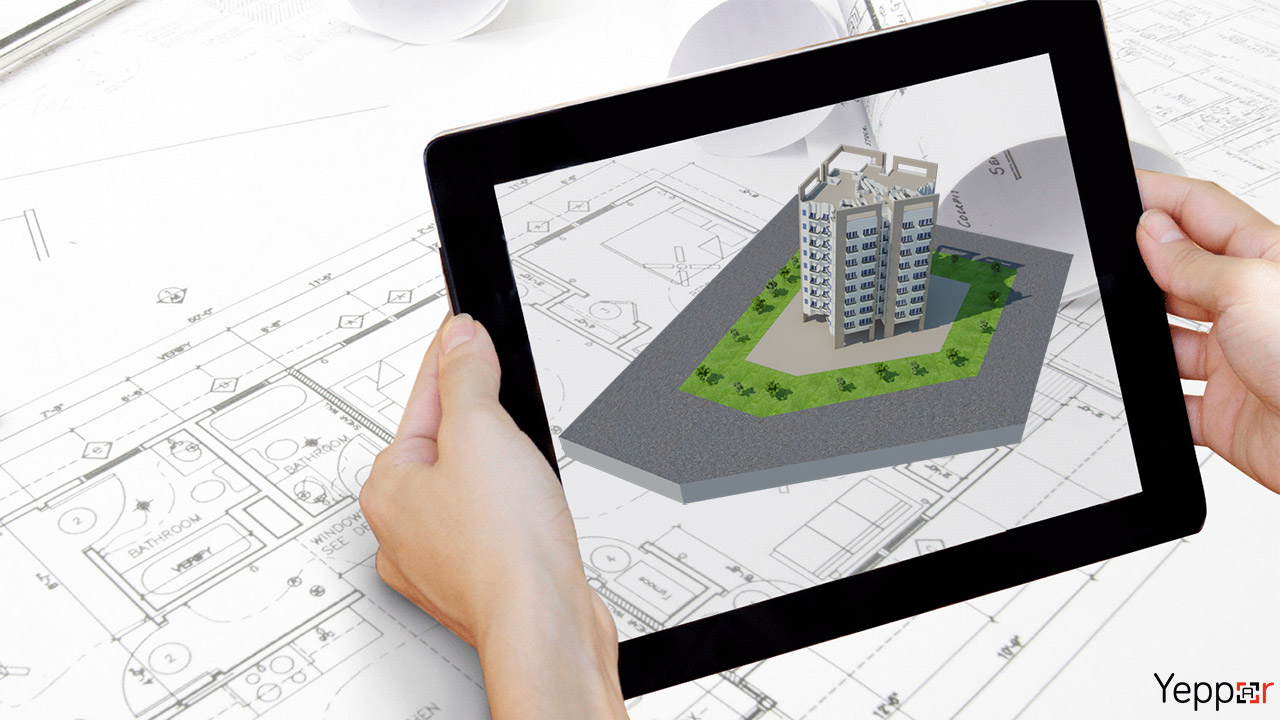 Emergence of reality solutions in architecture
Stereotypical ways of construction have become a thing of past since virtual reality, augmented reality and mixed reality rose to prominence. Real estate was quick to embrace all the benefits these reality solutions brought to them, with open arms. Construction and architecture can welfare from Augmented Virtuality in numerous ways-right from solving all challenges posed by construction to boost promotional components to its users. Augmented Virtuality has the potential to save a lot of money for construction companies by ensuring the accuracy of their projects and also assist them in their planning of new projects. AEC industry has become more forthcoming in adopting Augmented Reality Architecture as software and hardware tools as they have become more accomplished, economical, and more accessible than ever.
Why choose Augmented Reality Architecture?
Augmented Reality Architecture is a game-changer which allows us to have a trip down our own ideas and not just visualize them. It's a boon for the construction industry, its clientele, and those without detailed practical knowledge in this field but active nonetheless. Its functionality and versatility have raised the number of users that are consuming AR via portable devices, increasing their involvement and accessibility.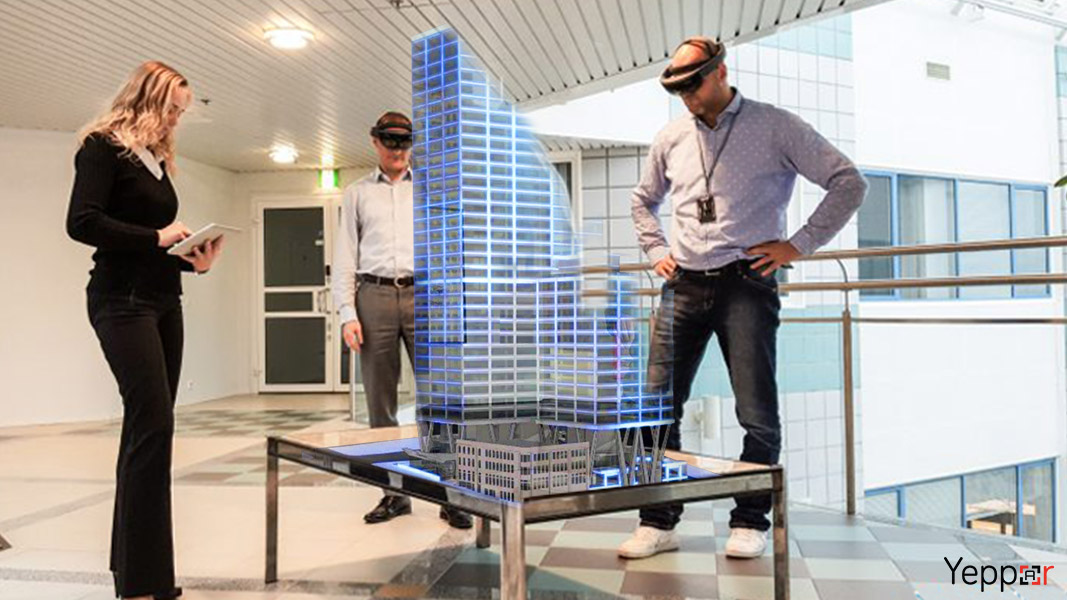 Augmented Reality with the help of tools and devices such as CAD, and Microsoft HoloLens  presents us with the enhanced version of reality by overriding real-world view of a user with the computer generated graphics incorporating virtual images, audio and other sense enhancements in real time adding new information to what is real. Innovative Augmented Reality Architecture solutions have revolutionized Real Estate sector by introducing digital brochures, physical visit turning into digital display through AR/3D models, and allowing users to get choosy enabling them to experience the realistic/futuristic view of a property.
How AR is revolutionizing AEC industry
Contractors, designers, and clientele are equally reaping the benefits of Augmented Reality Architecture in their work processes, design, immunity and other facets of the industry. It allows anyone to walk through the proposed building plan, facilitating easy comparison and providing an option to change the plan in the early stages. Its appliance and influence on the construction industry has a large spectrum, but could be summarized to-
Visualization and Customization: Augmented Reality Architecture presents the designers with extensive and multidimensional visualization of real-world environment eliminating the chances of errors and fixing any flaws before the actual construction begins. Imagine having a walk through your future home and visualizing the possible interior, all possible due to visualization provided by AR.
Customization is the most noteworthy fruit of these technological advancements in the architecture industry. The manipulation and alteration process through AR is much better than the physical change, making it easy for clients to customize their dream place.
Training and Information: The future of Architecture lies in the hands of the next generation. Augmented Reality Architecture helps the trainees to attain advanced knowledge about complicated elements and provide real-time assistance in case of on-site complications.
Augmented reality brings the real and the virtual worlds closer together, essentially educating the viewer about how things fit together. It has the propensity to illustrate things, otherwise difficult to pick up with naked eyes to ensure precision and quality assurance too.
Saving cost and time: Using Augmented Reality Architecture designing helps save both time and money. Creating architecture plans can be both time-demanding and expensive. The implementation of augmented reality in architecture gives a great competitive edge to the companies today. All this saved time could be utilized on other projects, resulting in the success and prosperity of the company. Augmented reality provides an affordable way to replace your building plans with 3D models across all aspects of planning.
What does the future holds?
Have you ever wondered what it would be like to walk around the streets envisioning them as per your own imagination? Augmented Reality Architecture is all set to change the future of real estate by taking a more mainstream and problem-solving approach towards it. Data could be easily shared and modified all around the world perpetually eliminating the need for designers to be present at a site. Environmental factors play a huge role in architectural designs, with the help of reality solutions designers can easily take the first-hand approach to design buildings-all factors considered by these technologies.
With Augmented Reality Architecture multiple users would be able to visualize the designing process at the same time to assist conjoined problem-solving. Post-completion repair and completion process could be simplified with AR's assistance in training about complex elements to amateur candidates. With the rise of Mobile Augmented Reality (MAR), users' involvement will increase substantially from visualizing and designing to maintenance and reporting.
Yeppar for Augmented Reality Architecture
Yeppar offers innovative and revolutionary reality solutions via Augmented Reality Architecture to the real estate industries assisting in prefabrication of building components, allowing designers to digitally visit construction sites and helping users to choose their property carefully. Yeppar is pushing construction industries towards the greater heights with its unique concept and creativity which is ground-breaking. We provide quality work with a high degree of interactivity & customization, optimizing your time and money with our Augmented Reality Architecture.