Have you been to a new cuisine restaurant lately? Are the blemishing names in menu card leaving you puzzled? Wondering what to order? And most freaking of all, getting bored having to wait for your orders to reach your table.
Here's a solution to fix all. YEPPAR, an amazing augmented based technology developed by RAMS Creative Technologies an augmented reality company in India, alters the dining experiences. Yes, you heard it right. You can now analyze what would be served on your platter and have a glimpse of it before you order the same.
There is much more to it. The whimsical number of benefits it ponders to a person leaves no option, but to switch over to it soon.
Key benefits of using YeppAr with hotel menu cards:
• No wonder, restaurants today tags a dish with some flamboyant names to allure customers but unknowingly leaves them more puzzled. But with YeppAr, the panorama seems rotating. Now, with YeppAr you can analyze:
o How the cuisine would look
o What ingredients it include (in case you are allergic to some…It can act as an alert)
o And, interestingly, how it's been made?
Isn't it just more than enough to know before you dine out?
With an ever-increasing quota of health conscious clans in current world, this app seems to make things clearer and transparent for them. With a large chunk of people peeping through the ingredient content on packaged foods, this app would no wonder serve as an icing on a cake. Now, the people can actually look through how would their ordered dish be made and what all would it include. It would put people in a better position to decide whether or not to order a particular cuisine.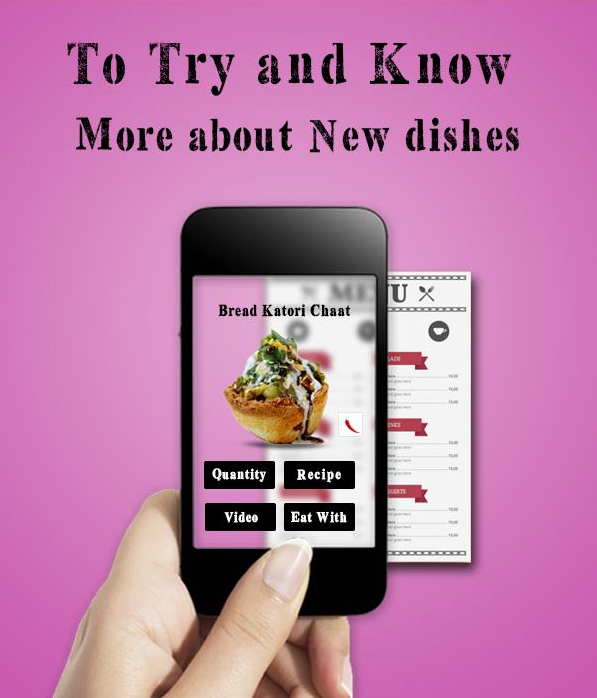 What's more to it is, the endless list of recipes being logged onto it. What people generally do after ordering their food? Look around? Gossip? Sometimes curse for having to wait for long? But, that's not the case now. With YeppAr, get engaged in viewing videos of thousand of recipes and spend your spare time smartly. Get the exact recipes of thousands of dishes just at no cost and be the master of your kitchen. With YeppAr, first see, then taste and then make. Isn't the app offering just more than your flat 70% off sale!!
There is a well-known idiom" Variety Is the Spice of life'. Spice up your life, try out some really new cuisines but, not blind folded.
Jump on the bandwagon. Join the masses who have already kept their eyes on while ordering food. Be the master of what you want to eat. Track the best-selling food now.
So, before you settle down to chow down, Get your YeppAr ON, know what you eat before you gulp it.