With folks especially young folks, inclined towards digitization in all spheres of life, Yeppar proudly announces its recent collaboration with Huppme, a one stop gifting destination, promising a more personal and high-strung gifting this valentine.
Yeppar a well acknowledged augmented reality app, having commenced a successful remodeling in the way people interact with print media, have taken a step ahead in restyling the gifting sector." Adding more charm, singularity loaded with a personal touch is what drove us, to bring AR technology in gifting section' said by Mr. Ankush Sharma from Yeppar.
'Where there is love, there is life', a famous valentine quote won't be just limited to textual pieces, rather the Yeppar team claims to add life-like effects to the same by means of overlaying additional images, videos, graphics and much more. Briefing about the modus operandi behind AR embedded gifts, Mr. Salik Khan from Yeppar said, 'a mere scan over the AR logo embedded over any gift can open avenues for out setting a personalized video, animated visuals, graphics, emojis etc.' He added, this collaboration would make the gifting experience more enriched and intimate.
The press release was marked with oodles of glamor and surprises with the influx of some love challenges and fun games, buckled with augmented reality gifts for the winning couples. On this eve, Mr. Rahul Mangal, the Founder of Yeppar raised a special vote of thanks to the entire Yeppar team for their staunch commitment and creativity that brought the AR embedded gifts in practical.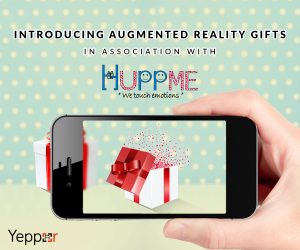 The collaboration of the like-minded firms is set to create an epoch in the gifting segment, leaving behind the traditional gifting patterns. With Huppme known to offer a plethora of gifting options from cards, surprise boxes, frames, cushion pillows, and gifts for all ages, customized gifts and corporate gifts, this tie- up is looking forward to a great show. Adding a 'Wow' factor to each gift is what runs behind each action. The concept of augmented reality cards is likely to go massive viral after a breakthrough success of AR game, Pokémon Go, indicating the massive acceptance of this technology, said by Yeppar Team.
'The clock has started ticking, we bet, AR gifts would enhance affection, love and care in your relationship', the last note by Mr. Ankush Sharma from Yeppar.
To buy augmented reality gift visit http://huppme.com and want to know more about augmented reality visit https://yeppar.com