What is Augmented Reality in education?
Augmented Reality is the real time integration of digital information with a person's environment.
In fundamental terms, the word augmented reality referring a simple combination of real and virtual world, given a real subject captured on camera or video that image "augment" with extra amount of digital information
Abstract
AR is growing rapidly and grabbing the attention towards education industry. There are multiple AR systems has been developed and tested to provide quality education with the assistance of AR technology. The technology with educational content creating a different type of automated apps and tasks to enhance the efficiency and enticement of teaching and learning for students in real life. The Idea offers a unique method of learning combined with the virtual and physical world.
Introduction
Augmented Reality basically a technology that projects digital material onto real world objects that mean a large spectrum of technologies that related to a virtual environment can be put into the real environment to enhance the user experience and can provide a futuristic real experience to the users.
Augmented Reality in education permits learners to experience the real world which they had never experienced before. AR offers an innovative learning environment with the combination of digital learning material in the form of media with tools or objects.
How can AR technology beneficial for education
Now days increasing of internet usage and mobile users are a good example of the integration of real world to the digital world for all our day to day tasks like news, entertainment, sports, videos, images, chat etc.
So now adding Augmented Reality in education would be a great for learners in their day to day learning with lots of real tech content implementation to their real classroom so that they can be able to catch the actual concept and understand the basics and advanced content for a particular subject with theory and as well as through practical using AR technology.
Let's take an example of the human body, and how can AR technology be more interactive and surprising to teach students about human body parts by just scanning an image below.
The AR technology not only beneficial for a certain age group students but also it is useful for all levels of students like primary, secondary, college students and up to all levels.
Any kind of student with any stream can easily access the AR technology in his/her day to day learning program to get more clear and practical knowledge of the topic.
Let's pick one more example for play school student and see how even below the age limit of 5 years child can understand the basic concepts of learning through the Augmented Reality technology.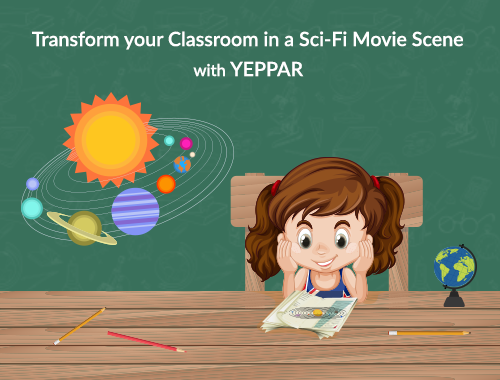 We at Yeppar provide the complete solution of Augmented Reality technology in the education industry by our revolutionary Yeppar app which provides a vital exposure to have the AR technology for the users to enhance their skills to get advance information with practical knowledge to get the extra mile of their skill set to exist in so competitive era.
Our various products for augmented reality in education through eLearning are very user-friendly which can be easier to use and provide full depth information about the subject so that a person can easily understand the concept and accordingly can enhance their skills.
Here are 5 reasons why you should use Augment reality in Education
Engaging Presentation
By a combination of augmented reality in education, an education provider can capture the attention of their audience, and the audience will be more engaged in such a way of learning by getting in-depth knowledge through augmented reality.
Below there is an example of engaging presentation
Learning through interactive lessons
Students are able to access their models through their own devices by our interesting Yeppar App. By viewing and analyzing augmented models students are able to gain a better knowledge of concepts for which they are studying. This is a fun way of learning which will engage them to learn more about their desired topic with detailed information.
Affordable and portable learning materials
Posters, banners, physical models and detailed illustrations are more expensive altogether time-consuming to maintain. Due to reason most of the school, colleges not providing appropriate learning material to their students resulted students are not able to grab the desired information in detail.
But with Augment, nobody has to invest in physical material and it's easily accessible from any device anywhere and anytime. Doesn't matter student are in the classroom or at their home, they can get the important information and concepts in one touch Yeppar App.
Higher Retention
Students can access augmented models presents anything from a building structure to any mechanical structure altogether students can access directly to websites through augmenting apps. It will be easier for students to retain more knowledge and concepts for a longer period of time.
Boost intellectual curiosity
Adding Augmented reality in education program will lead to the excitement of students towards learning and in this digital era, they will be continuously simulated with augmented reality. Students will be more curious about learning and will be more excited by new ideas of imagination.
"Introducing augment reality in the education system will boost students to get more knowledge which will inspire them to add more value to their future endeavors."